One the biggest changes you can make to help reduce your personal carbon footprint is through switching home energy source. On the attached webpage, Home Energy, we have reviewed the various options on the market and provided a comprehensive overview with links to relevant websites and information sources.
Please read the attached article about changing Electricity suppliers v4
We are hosting a free information event all about green home energy alternatives as part of Speen Festival, on 2 September at 7:30pm. Full details below, or get in touch directly if you would like to find out more.
Speakers will include representatives from a range of green energy providers, including solar and heat pumps, as well as local Speenies that have been through the process of researching and installing systems in their own homes.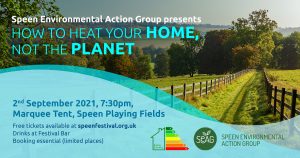 Home Energy Projects
Contact:
Mei Price (meilian.wan@gmail.com)