Welcome to our website
Welcome to the village website for Speen in Buckinghamshire – run by villagers for the village. To make comments on this website you will need to register first then login. (

Register Here

) (

Log In Here

).


SPEEN FETE 2021


Speen Fete returned this year on

Saturday July

3rd

  with the theme of CELEBRATION – many houses decorated their house or front garden. The decoration competition was sponsored in memory of Mr John Turner with prizes donated by TUDOR TRAVEL
So how did YOU enjoy the fete? Here's another first – a feedback survey. Just click on the link or copy & paste the address into your browser. We would love to hear what you thought about it.
https://www.smartsurvey.co.uk/s/WML1MW/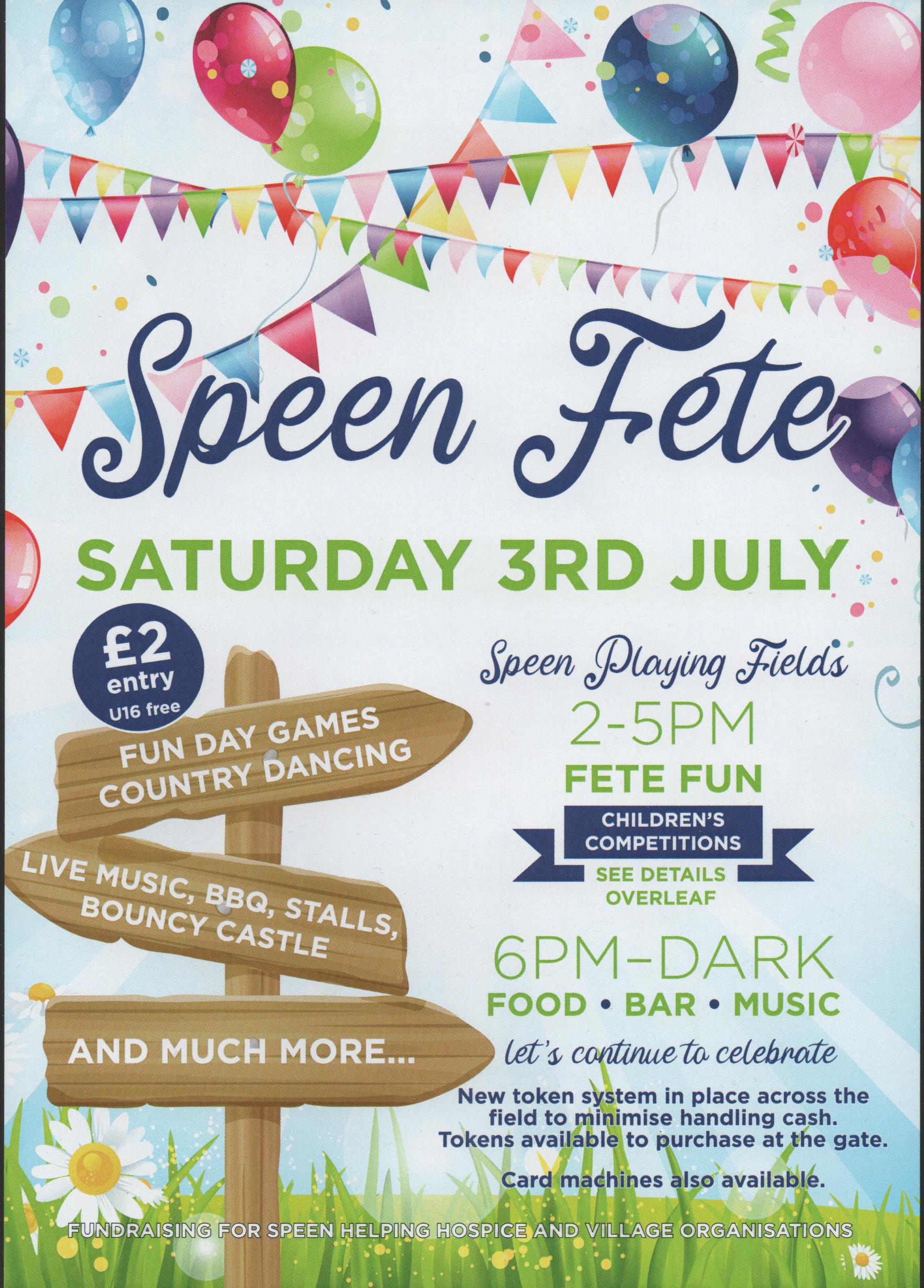 Fully Covid compliant, all entry was via the gate on Hampden Road, which opened at 1:30pm to allow socially distanced entry. Cost of entry was £2 per person (under 16's free). Although the Fete itself did not start until 2pm everyone needed to either sign in or scan the QR code with their mobile phone, and purchase bags of sanitised 50p tokens (£5 or £10) with cash or card. Grand Draw tickets could be purchased at this time or at any time during the afternoon. However, all stalls & side-shows accepted tokens only, with the exception of the Bar; BBQ and Ice Cream Van who accepted tokens, cash or card.
CHILDREN'S COMPETITIONS :-
Colouring Competition – ages 5 to 7 and 8 to 10 – Two first prizes of £10 each
Sponsored by – Speen Stores
Photography Competition – age 10+ – First prize was £10.
Decorate a Pebble Competition – Pebbles were with a positive message or image with paint, crayon or chalk
First prize £10
Baking Competition – – age under 10 – 2 decorated cupcakes – age over 10 – a whole cake decorated for any occasion – First prize in each group was £10

Speen, North Dean & Bryants Bottom Residents  all received a Fete Programme delivered. This contained not only the schedule for the afternoon and details of many of the village organisations supported by the Fete, but advertisements from many local traders which we hope you will support. And, in no particular order they are :-
Hold on to your programme for the After The Fete Quiz  which will appear on this website with a different question each week – all the answers can be found in the programme, so hold on to it for the rest of July
– there's £25 to be won!
How to Win the QUIZ
Every Monday morning in July a new question will appear here. Just look through your programme and find which advertiser is the answer, then send your answer by email to The Fete Quiz (click on the link)
Equal points will be awarded to all emails received by 7pm on that Monday and a reducing number of points to those received subsequently. The person with the highest number of points at the end of the month will receive £25. So it is still worth entering even if you miss one.
5th July – Who has "#1" and "24.7" in their advert?
12th July – Who specialises in Sarnafil?
19th July – Who would you find on Duke Street? (22/7 Sorry this was late!)
26th July – Where would you go for 'a friendly chat' ?
ONE CAN TRUST
Helping others in High Wycombe who cannot help themselves through this very difficult time. Click Here to read what
you

can do to help now.
COVID-19 SUPPORT

–

in North Dean & Speen
Villagers have come together to support anyone in North Dean and Speen who is affected by Covid-19. This is even more important during the new lockdown.
There is a Speen and North Dean Covid-19 WhatsApp group. If you'd like to join it, please email c19@speenbucks.org.uk.



If you need help, or would like to offer to help, please send an email to 

c19@speenbucks.org.uk.
SPEEN ENVIRONMENTAL ACTION GROUP


Find out about the latest environmental issues affecting our area, what we are trying to do about them and what you can do to help make a difference.
Speen Message Board
A web based message board for Speen was set up in 2002 and is still going today. Click on this link http://speenbucks.proboards.com/ or copy the address into your address bar to access it.